To have access to your company's RANGERS, you will need a SignalFire Cloud account user login. Contact your company's Cloud user admin to set up your account.
If your company does not have an account and you are performing first time setup, complete the SignalFire Cloud Account Setup Form to request a new user account group.
User Settings

Once logged in, select your username in the upper right to change your user settings. Enter your contact phone number and/or email address and enable Alarms to have alarm notifications sent to you. Enable billing to receive reports on which RANGERS are about to expire and need to have their Cloud subscription renewed. After making changes (highlighted in yellow), click Save or Undo to apply or revert the changes made.
User Roles
All users in the group can view any RANGER, but their ability to change settings can be restricted by their user roles. There are five user roles: User Admin, Device Admin, Alarm Admin, Alarm Ack, and Report Admin.
User Admin – Can add, edit, and remove users in the user group, including changing other users' permissions. The User Admin cannot view anyone's password, but they may reset the password for a user who forgets theirs. It is recommended to restrict the number of users with this permission to as few people as possible.
Device Admin – Can add, edit, and remove RANGERS in the user group, toggle the relay output and initiate firmware updates. Note that device admins can change any settings in any RANGER without restriction.
Alarm Admin – Can configure just the alarm settings for RANGERS and users.
Alarm Ack – Can acknowledge active alarms.
Report Admin – Can add, edit, and remove automated reports.
Dashboard Admin – Can create and edit custom dashboards. All users can view created dashboards
Power Chart Admin – Can create and edit Power Charts. All users can view Power Charts
User View

A list of users in the group can be viewed by clicking on the Users icon in the top menu. User Admins will be able to edit any user by clicking on the "Edit User" button. This will bring up the same User Settings as shown above, with an additional option to delete the user.
Adding Users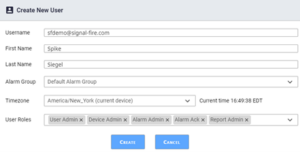 User Admins may add additional users in the User view by clicking Add User in the upper right-hand corner. Fill in the fields, configure permissions, and click "Create". A window will pop up with a temporary password for the new user once complete. It is recommended that an email address is used for the username so it is unique.