RANGERS support Over the Air (OTA) updating of firmware. The Signal Fire Cloud Platform has tools built in to help you do this.
Single RANGER Firmware Update
On the Node Status of any RANGER, if there is an applicable firmware update available and the RANGER is online, the tile will display a button allowing you to upgrade the RANGER's firmware: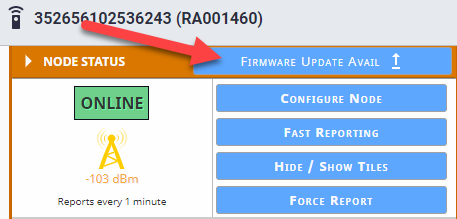 Upon clicking the button, the Bulk Firmware update page will be brought up with the target device pre-selected for receiving an update. You may review the list of nodes eligible for a firmware update to go through with a bulk firmware update.
Bulk Firmware Update
If you have multiple RANGERS, you can update one or more of them at the same time using the Bulk Firmware Update tool.
On the home page, click the Update Firmware button:
You will see a screen which lists the RANGERS in your group, along with their current firmware version, and any available firmware version. You will also see buttons to review Release Notes for the latest firmware version available.

You can select one or more RANGERS to update simultaneously, and then click the Update Selected button to begin the OTA firmware update process.
You will see each step of the firmware update process:


You will also see the status of recently updated RANGERS:
If you trigger a firmware update and it doesn't complete successfully within 10 minutes, you will get a message that the firmware update failed. This can happen if the RANGER loses power during the update or if the download of the firmware software over the air fails. You can try again by selecting the checkbox again. There are many fail-safes in place to ensure that firmware updates will not leave the RANGER in an inoperative state.
If there is more than one person in your organization logged into the Signal Fire Cloud platform, you will be able to see firmware status updates that others perform in real time.